Modern SecOps
engineer tools
Gain visibility into your organization's security posture with continuous security monitoring.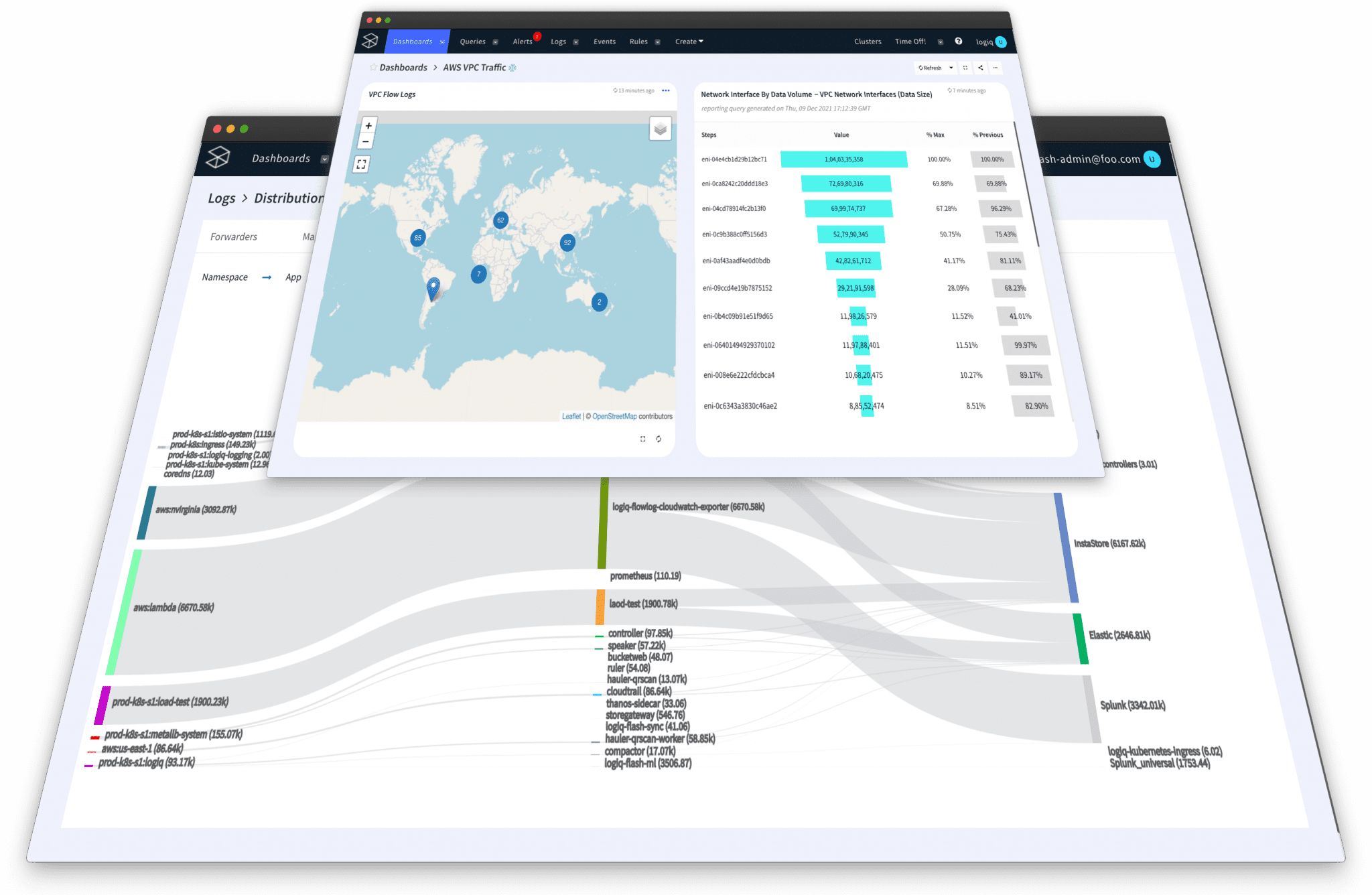 "Always-on" real-time detection and correlation
of security incidents
Do you struggle to get a 360-degree threat visibility across your entire IT landscape? If yes, it's no surprise—you've got a lot going on. Legacy architectures, modern architectures, hybrids of the two—the way we use technology has continued to evolve rapidly over the years. But the one thing that hasn't changed is how much you need to be able to see what's going on in your network and infrastructure.
Apica's XDR automatically detects and correlates threats and security incidents so that you can get a clear picture of everything that's happening in your IT environment, without actually having to look at all of it at once. Just use Apica's 1200+ built-in rules across user activity, applications, infrastructure components, and network devices to collect and analyze events, then let our built-in integrations with platforms like PagerDuty, Slack, ServiceNow, OpsGenie deliver alerts directly to your analysts so they can jump right into remediating critical security incidents.
Extended Detection and Response
Apica offers an advanced platform with HIDS capabilities, reducing false positives and ensuring efficient, accurate threat detection.
Single platform: real-time correlation, log analysis, and monitoring
Integration: seamless compatibility with existing security environments
Comprehensive data collection: MELT data across IT environments for big-picture analysis

By replacing outdated SIEMs, Apica's powerful engine delivers a bird's-eye view to identify patterns and potential malicious behavior, ultimately enabling more informed decision-making and threat mitigation.
Apica's AI-driven engine streamlines security event management, enabling SecOps teams to efficiently handle alerts and reduce costs.
Intelligent analysis of massive data volumes
Automatic baselining and deviation detection
Enhanced visibility without alert fatigue or inbox overflow

Empowering teams to be more effective and productive, Apica eliminates the challenges posed by overwhelming data streams, ultimately ensuring better security outcomes.
Gain compliance advantage
Apica's InstaStore ensures limitless storage and rapid reporting, simplifying compliance for your business.
Indexed object storage for limitless machine data
Fast compliance report generation
Tier-LESS architecture: searchable data across any stack, regardless of age

InstaStore's unique implementation enables security and compliance teams to maintain a comprehensive activity record, making data easily accessible and mineable whenever needed.